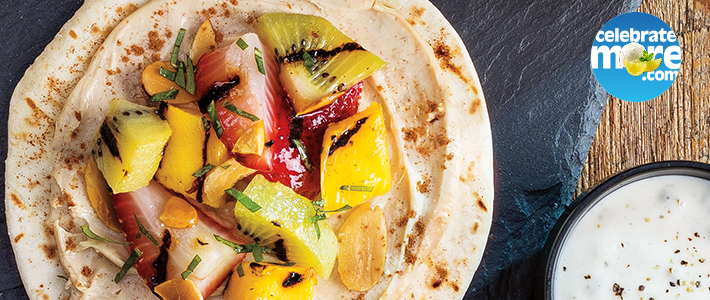 Ingredients
4 (10-inch) Wooden Skewers
¼ Cup Brown Sugar & Cinnamon Cream Cheese, softened
2 Tbsp. Fresh Orange Juice
1 Tbsp. Granulated Sugar
1 tsp Ground Cinnamon
2 Kiwis, peeled and cut into 1-inch pieces
1 Large Ripe Mango, peeled, pitted and cut into 1-inch pieces
1 Cup Strawberries, halved
Nonstick Cooking Spray
8 (4-inch) Street Taco Flour Tortillas
¼ Cup Sliced Almonds, toasted
1 Tbsp. Fresh Basil, chopped
Instructions
Soak skewers in water 30 minutes. In small bowl, stir cream cheese and orange juice; in separate small bowl, combine sugar and cinnamon.
Prepare outdoor grill for direct grilling over medium heat. Alternately thread kiwi, mango and strawberries onto skewers; lightly spray with cooking spray. Lay tortillas on work surface; lightly spray with cooking spray and sprinkle with cinnamon-sugar mixture.
Place fruit skewers on hot grill rack; cook 3 minutes, turning once. Place tortillas, cinnamon-sugar side down, on hot grill rack; cook 1 minute.
Remove fruit from skewers. Spread plain side of tortillas with cream cheese mixture; fill with fruit, almonds and basil.
Notes
To toast almonds: In small skillet, cook almonds over medium heat 5 minutes or until lightly browned and fragrant, stirring frequently.
Percent Daily Values are based on a 2,000 calorie diet. Your daily values may be higher or lower depending on your calorie needs.