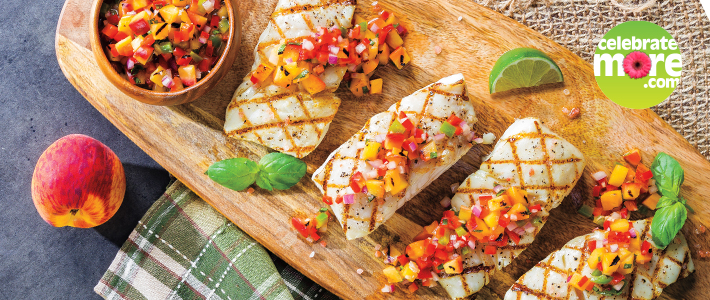 Grilled Halibut with Jalapeño-Peach Relish
Ingredients
2 Medium Peaches, halved and pitted
1 Medium Jalapeño, halved, seeded and stemmed
¼ C. Olive Oil
4 Halibut Fillets, skin-on (about 1½ pounds)
¾ tsp. Salt
½ tsp. Ground Black Pepper
2 Tbsp. Fresh Lime Juice
1 Tbsp. Honey
1 tsp. Fresh Ginger, grated
1 Medium Red Bell Pepper, chopped
¼ C. Red Onion, chopped
1 Tbsp. Fresh Basil, chopped or Thai Basil
Instructions
Prepare outdoor grill for direct grilling over medium-high heat.
In medium bowl, toss peaches, jalapeño and 1 tablespoon oil. Place peaches and jalapeño, cut side down, on hot grill rack; cover and cook 5 minutes or until grill marks appear, turning once. Transfer peaches and jalapeño to cutting board; chop.
Brush both sides of halibut with 1 tablespoon oil; sprinkle with ½ teaspoon salt and ¼ teaspoon black pepper. With clean kitchen towel and tongs, coat hot grill rack with remaining 2 tablespoons oil. Place halibut, skin side up, on hot grill rack; cover and cook 7 minutes or until opaque throughout and internal temperature reaches 145°F, turning once. Slide spatula between skin and flesh to remove skin.
In large bowl, whisk lime juice, honey, ginger, and remaining ¼ teaspoon each salt and black pepper. Add bell pepper, onion, basil, peaches and jalapeño to lime mixture; toss. Makes about 3 cups.
Serve halibut topped with relish.
Notes
To prevent halibut from sticking to the grill, make sure the grill grates are well oiled and hot before placing it on the grill.
Grill halibut with the skin on and use a fish spatula to turn it only once to help prevent it from flaking and falling apart.
Halibut steaks will take about 10 minutes to grill, and fillets about 7 minutes.
Percent Daily Values are based on a 2,000 calorie diet. Your daily values may be higher or lower depending on your calorie needs.
Grilled Halibut with Jalapeño-Peach Relish adds a spicy kick with a touch of sweetness. Perfect for summer grilling! Keep the grill goin for this Grilled Tuna Melt Wrap!
Shop from the comfort of your home! You can shop online at any of our proud family of stores for these recipe ingredients as well as the rest of your grocery list! We offer curbside pick up at all locations and delivery in select locations as well. Don't forget to connect your MORE Rewards account when you shop online for extra savings, digital coupons, and many other rewards too!

Shop Ingredients