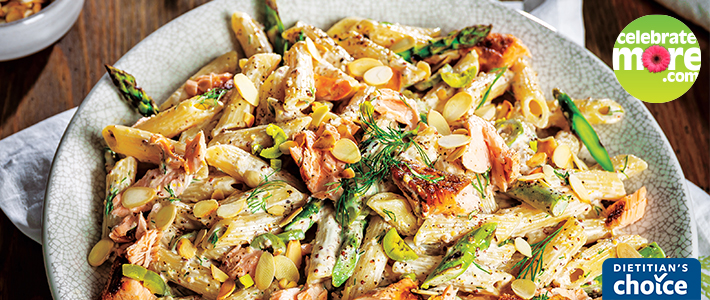 Grilled Salmon & Asparagus Pasta Salad
Ingredients
16 oz. (1 Pkg.) Penne Pasta
1 lb. Skin-on Salmon Fillet
1 Tbsp. Olive Oil
1/2 tsp. kosher salt
1/2 tsp. Ground Black Pepper
1/2 Bunch Asparagus, trimmed (about ½ pound)
1/3 C. Sliced Almonds
1/3 C. Mayonnaise
1/4 C. Stone Ground Mustard
2 Tbsp. White Vinegar
2 tsp. Chopped Fresh Dill
1/3 C. Chopped Green Olives
Instructions
Prepare outdoor grill for direct grilling over medium-high heat. Cook pasta as label directs; drain, rinse with cold water and cool.
Brush salmon with ½ tablespoon oil; sprinkle with 1/8 teaspoon each salt and pepper. In a medium bowl, toss asparagus, remaining ½ tablespoon oil, and 1/8 teaspoon each salt and pepper. Place salmon, skin side up, and asparagus on hot grill rack; cover and cook salmon 8 minutes or until internal temperature reaches 145°, turning once, and asparagus 5 minutes or until tender-crisp, turning frequently. Transfer salmon to large plate and asparagus to cutting board; cool slightly and remove skin from salmon. Cut salmon and asparagus into 1-inch pieces; cool.
In large skillet, toast almonds over medium-high heat for 4 minutes or until lightly browned and fragrant, stirring frequently; transfer to a plate to cool.
In large bowl, whisk mayonnaise, mustard, vinegar, dill, and remaining ¼ teaspoon each salt and pepper; fold in olives, pasta, salmon and asparagus. Serve pasta salad sprinkled with almonds. Makes about 10 cups.
Notes
For additional nutrition, swap in Whole Wheat Penne, Chickpea Pasta, or Brown Rice Pasta.
Approximate nutritional values per serving (1¼ cups): 443 Calories, 17g Fat (2g Saturated), 40mg Cholesterol, 436mg Sodium, 48g Carbohydrates, 4g Fiber, 1g Sugars, 22g Protein