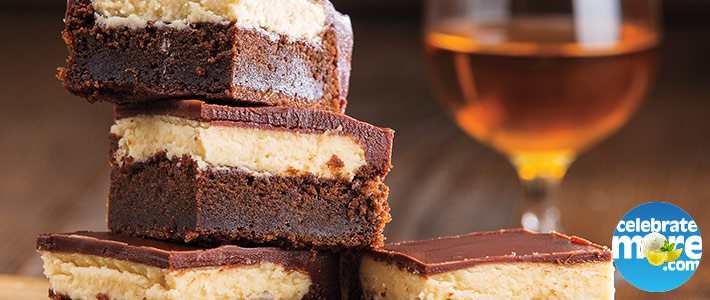 Ingredients
Brownie
Nonstick Cooking Spray
1 C. Guinness® Draught Stout
1 C. Granulated Sugar
1/2 C. Plus 1 Tbsp. Unsalted Butter, at room temperature
4 Large Eggs
1-1/2 C. Chocolate Syrup
1 tsp. Vanilla Extract
1 C. All-Purpose Flour
1/2 tsp. Salt
Cream Filling
3 C. Powdered Sugar
1/2 C. Plus 3 Tbsp. Unsalted Butter, at room temperature
1/4 C. Irish Cream Liqueur
Chocolate Glaze
1-1/3 C. Semi-Sweet Chocolate Morsels
1 Tbsp. Irish Whiskey
3/4 C. Unsalted Butter
1 Tbsp. Light Corn Syrup
Instructions
Preheat oven to 350°F. Line 13 x 9-inch baking dish with aluminum foil with overhanging sides; spray with cooking spray.
Prepare Brownie: In small saucepot, heat stout to boiling over high heat; reduce heat to medium-low and simmer 5 minutes or until reduced to about 2/3 cup. Remove from heat; cool.
In large bowl, with mixer on medium-low speed, beat sugar and butter 3 minutes or until light and fluffy. Add eggs, 1 at a time, scraping sides of bowl with rubber spatula after each addition. Add chocolate syrup, vanilla extract and stout; beat until combined. Add flour and salt; beat just until combined. Pour batter into prepared dish.
Bake 30 minutes or until toothpick inserted in center of brownie comes out clean; cool in pan on wire rack 30 minutes. Refrigerate brownie at least 1 hour or overnight.
Prepare Cream Filling: In large bowl, with mixer on low speed, beat powdered sugar and butter 3 minutes or until light and fluffy, scraping sides occasionally; turn off mixer. Add Irish cream; beat on low speed 2 minutes or until smooth. Evenly spread filling over surface of brownie; refrigerate while preparing glaze.
Prepare Chocolate Glaze: In large bowl, add chocolate morsels and whiskey. In small saucepot, heat butter and corn syrup to boiling over medium heat; pour over chocolate mixture and let stand 2 minutes. Whisk chocolate mixture until smooth; evenly spread glaze over surface of filling layer.
Refrigerate at least 2 hours or overnight. Use foil to lift brownie out of dish. Cut brownie lengthwise into 4 strips, then cut each crosswise into 6 bars.
Notes
Helpful Tip: Use a large knife dipped in warm water and wiped dry to cut brownies. Wipe the knife blade clean and dip in warm water between cuts.
Irish Spiked Brownies aren't exactly a traditional Irish treat, but they are so delicious they'll be a tradition every St. Patty's Day! However, if you are looking for a traditional Irish meal, here's a fantastic recipe for Corned Beef & Cabbage.
Shop from the comfort of your home! You can shop online at any of our proud family of stores for these recipe ingredients as well as the rest of your grocery list! We offer curbside pick up at all locations and delivery in select locations as well. Don't forget to connect your MORE Rewards account when you shop online for extra savings, digital coupons, and many other rewards too!
Shop Ingredients