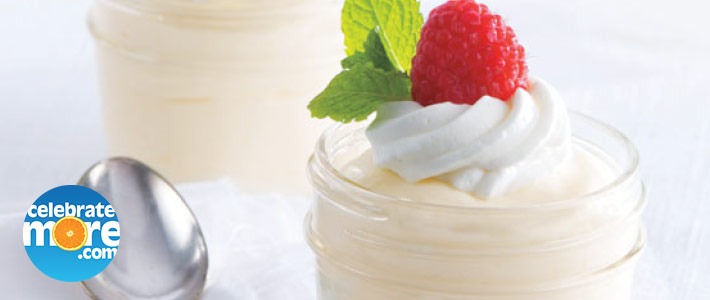 Ingredients
Lemon Curd
2 Large Eggs
3/4 C. Granulated Sugar
1 Tbsp. Lemon Zest
3/4 C. Unsalted Butter
1/4 C. plus 2 Tbsp. Fresh Lemon Juice
8 (4 Oz.) Glass Jars
Whipped Cream
2 C. Heavy Cream
1/4 C. Powdered Sugar
2 tsp. Pure Vanilla Extract
Fresh Berries and Fresh Mint Sprigs, for garnish (optional)
Instructions
Prepare Lemon Curd: In medium bowl, whisk together eggs, sugar and lemon zest until light and fluffy. In medium saucepan, heat butter and lemon juice to boiling over medium-high heat; remove from heat. To temper egg mixture, transfer 1/3 cup of the hot butter mixture into egg mixture while whisking constantly; add butter-egg mixture back to saucepan. Heat mixture to boiling over medium heat, whisking constantly. Cook 2 minutes or until large bubbles appear and mixture thickens; remove from heat. Transfer lemon curd to large bowl; cover surface with plastic and refrigerate at least 6 hours or overnight.
Prepare Whipped Cream: In large bowl, with mixer on low speed, beat cream, powdered sugar and vanilla 2 minutes. Increase speed to medium-high; beat 4 minutes or until medium-firm peaks form. Reserve 1-1/2 cups whipped cream for garnish.
With rubber spatula, fold half of the remaining whipped cream into lemon curd until combined; fold in remaining whipped cream. Evenly divide mousse into jars. Garnish with reserved whipped cream; top with berries and mint, if desired. Serve or refrigerate up to 4 hours.
The sweet lemon flavor in this Lemon Mousse pairs wonderfully with fresh berries for an even more decadent treat. If you need a great treat recipe that travels easier, try these Leinenkugel's Summer Shandy Lemon Cupcakes.
Shop from the comfort of your home! You can shop online at any of our proud family of stores for these recipe ingredients as well as the rest of your grocery list! We offer curbside pick up at all locations and delivery in select locations as well. Don't forget to connect your MORE Rewards account when you shop online for extra savings, digital coupons, and many other rewards too!
Shop Ingredients