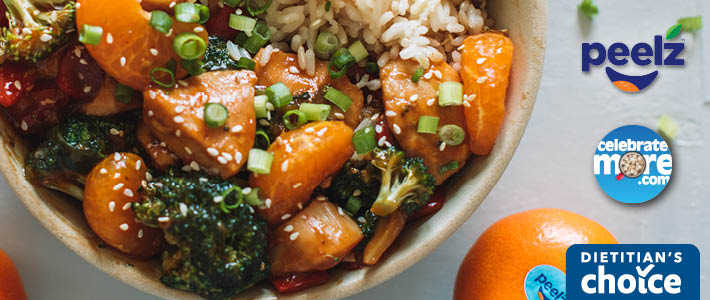 Mandarin Orange Chicken Stir Fry
Ingredients
1/3 C. Soy Sauce (Try Coconut Aminos for a lower-sodium alternative)
1/4 C. Mandarin Orange Juice
1 Tbsp. Honey
1 Tbsp. Sweet Red Chili Sauce
2 tsp. Sriracha
1 tsp. Minced Garlic
1 tsp. Minced Ginger
1 tsp sesame oil
1 Tbsp. Olive Oil
1 1/2 lbs. Chicken Breast, cubed into 1-inch pieces
Kosher Salt
1 Red or Green Bell Pepper, chopped
3 Green Onions, chopped into 2 inch pieces
1 C. Broccoli, cut into small pieces
1/3 C. Chicken Broth
2 tbsp cornstarch
1/4 C. Water
1 C. Mandarin Segments
Green Onions, thinly sliced (for topping)
Brown Rice, for serving
Instructions
In a small bowl whisk together soy sauce (or coconut aminos), mandarin orange juice, honey, sweet red chili sauce, sriracha, garlic, ginger, and sesame oil until combined.
Heat a large, heavy bottom skillet on medium heat with olive oil for 1 minute. Add in cubed chicken in an even layer and sprinkle with kosher salt. Cook for 2-3 minutes on each side until cooked through or golden.
Add in bell peppers, green onions and broccoli and cook for 2-3 minutes. Drizzle in the chicken broth to deglaze the pan and scrape the bottom.
Lower your heat to medium low and add the sauce mixture and stir together. Cook for 1-2 minutes until slightly thickened.
Add in 2 tbsp of cornstarch to a ¼ cup of water and whisk together. Pour mixture over the chicken and let cook for 2-3 minutes or until the sauce has thickened. If the sauce is too thick, add in water or chicken broth as needed.
Add in mandarin segments and stir together.
Serve over steamed rice and top with more green onions before serving.
Notes
Recipe and photo provided with permission from Peelz Citrus.