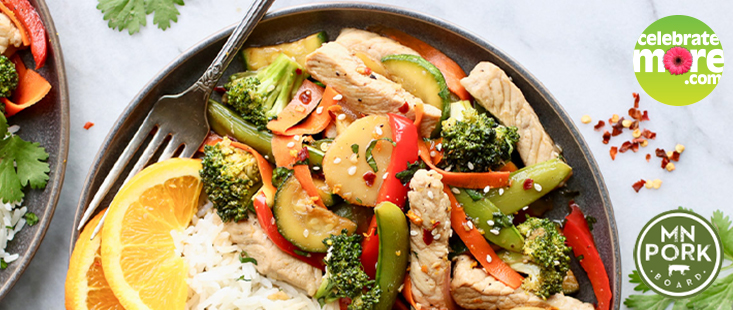 Ingredients
For the sauce:
3/4 C. Chicken Broth
1/3 C. Coconut Aminos (may substitute wheat-free tamari or soy sauce)
Juice of 1 Large Orange + 2 tsp. Orange Zest
1 tsp. Toasted Sesame Oil
3 Cloves Garlic, minced (or 1 1/2 tsp. garlic powder)
1 tsp. Freshly Grated Ginger (or 1/2 tsp. ground ginger)
1 tsp. Honey
1/2 tsp. Crushed Red Pepper
Salt & Pepper, to taste
Optional for thickness – 1 Tbsp. arrowroot starch (may sub corn starch)
For the Stir-Fry:
1 lb. Boneless Pork Loin Chops, thinly sliced
1 Tbsp. Avocado Oil or Olive Oil
2 Small Head of Broccoli, cut into florets (~2 cups)
1 Small Zucchini, sliced into half moons (~1½ cups)
1 C. Sugar Snap Peas
3/4 C. Sliced Onion
1 Sweet Bell Pepper, thinly sliced (about 1 C.)
2 Medium Carrots, cut into ribbons with vegetable peeler
1 Small Can of Sliced Water Chestnuts
Garnish: Sesame Seeds, Cilantro, Crushed red pepper
**Feel free to use 7-8 cups of any combination of vegetables – broccoli, cabbage, zucchini, cauliflower, snap peas, bell peppers, green beans, water chestnuts, celery, asparagus etc.
Instructions
Combine stir-fry sauce ingredients (except the arrowroot/cornstarch) in a small bowl. Whisk and set aside.
Heat 1⁄2 Tbsp. oil in a large sauté pan, wok, or skillet over medium-high heat.
Add the pork and cook until no longer pink – about 3 minutes on each side. Remove pork to a plate and set pork aside.
In the same pan, add the remaining 1/2 Tbsp. oil. When the pan is hot, add the broccoli, sugar snap peas, zucchini, onion, and bell pepper. Stir-fry for 7-8 minutes or until crisp tender. Add the carrots and water chestnuts and continue to stir-fry for 1-2 minutes. Remove from pan and set aside.
To the same pan, add the stir-fry sauce. Bring to a boil and then turn down heat, and simmer for 5 minutes. Once sauce is slightly reduced, add up to 1 Tbsp. of arrowroot/cornstarch, 1 tsp. at a time to thicken and whisk immediately to avoid clumping (this is optional).
Add the pork and veggies back to the pan and cook for an additional 2-3 minutes or until meat is warmed through and vegetables are tender.
Serve over rice (or cauliflower rice) and top with sesame seeds, cilantro, sliced green onion and crushed red pepper if desired.
Orange Pork Stir Fry is a healthy dinner option made with lean pork and 2 cups of veggies per serving. Plus it's egg and dairy free, too! If you haven't tried Mandarin Orange Chicken Stir Fry, you should try that one next!
Shop from the comfort of your home! You can shop online at any of our proud family of stores for these recipe ingredients as well as the rest of your grocery list! We offer curbside pick up at all locations and delivery in select locations as well. Don't forget to connect your MORE Rewards account when you shop online for extra savings, digital coupons, and many other rewards too!
Shop Ingredients