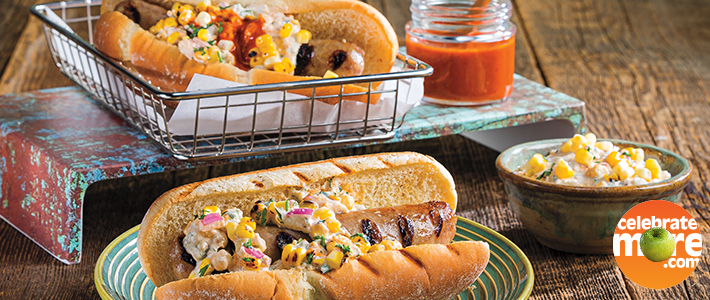 Mexican Street Corn Brats
Ingredients
2 Ears Sweet Corn, husk and silk removed
¼ Cup Red Onion, finely chopped
¼ Cup Grated Cotija or Parmesan Cheese
2 Tbsp. Fresh Cilantro, finely chopped
2 Tbsp. Sour Cream
1 Tbsp. Fresh Lime Juice
1 Tbsp. Mayonnaise
2 tsp Cayenne Pepper Hot Sauce, plus additional for garnish (optional)
1 tsp Garlic Powder
½ tsp Chili Powder
4 Bratwurst Sausages, uncooked
4 Hot Dog Buns
Instructions
Prepare outdoor grill for direct grilling over high heat. Place corn on hot grill rack; cover and cook 12 minutes or until charred, turning ¼ turn every 3 minutes. Transfer corn to cutting board to cool; reduce grill heat to medium-low. Once corn is cool, cut corn kernels from cobs.
In large bowl, stir red onion, cheese, cilantro, sour cream, lime juice, mayonnaise, hot sauce, garlic powder and chili powder; fold in corn. Makes about 1⅓ cups.
Place brats on hot grill rack; cover and cook 15 minutes or until internal temperature reaches 160°, turning frequently. About 3 minutes before brats are done, place buns, cut side down, on hot grill rack; cover and cook 3 minutes or until grill marks appear.
Serve brats in buns topped with corn mixture and hot sauce, if desired.
Percent Daily Values are based on a 2,000 calorie diet. Your daily values may be higher or lower depending on your calorie needs.