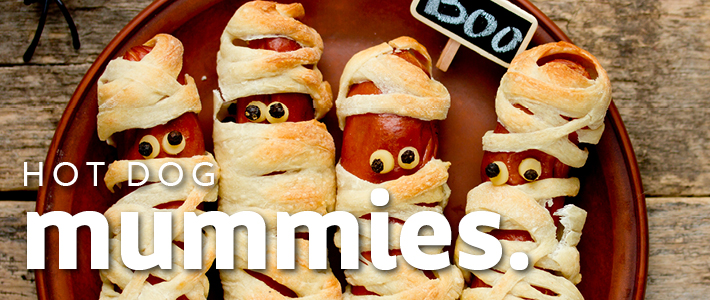 Ingredients
8oz. Can Crescent Roll Dough
6 Hot Dogs
Cooking Spray
Candy Eyes
Instructions
Heat oven to 375°F. Open the Crescent Roll package and unroll the dough. Press on the perforations to seal them together.
Cut the dough into 1/4 inch strips.
Wrap the pieces of dough around each hot dog, creating bandages by stretching the dough slightly and letting it overlap and criss-cross. You don't need to completely cover the hot dog; leave gaps so it looks like a mummy peeking out from it's bandages.
Place each wrapped hot dog on a baking sheet that was sprayed with cooking spray, and then bake for 10-12 minutes or until the dough is golden brown and hot dogs are heated through to 165°F.
Remove from the oven and place a small dot of ketchup or mustard on the back of your candy eyes and add two candies to each mummy hot dog.