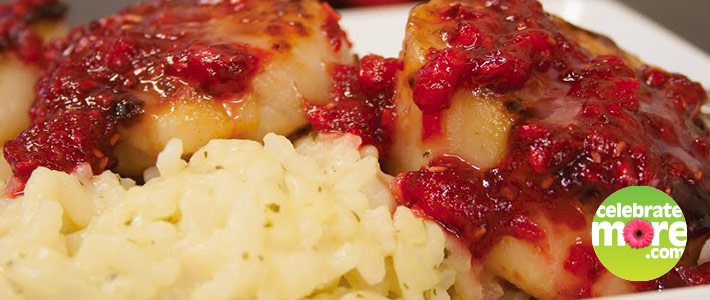 Pan-Seared Scallops with Spicy Raspberry Sauce
Ingredients
2 Tbsp. Raspberry Preserves
Juice and Zest of 1 Lemon
½ C. Raspberries
2 Tbsp. Water
1-2 tsp. Crushed Red Pepper, more or less depending on taste preferences
1 Lb. Scallops
Salt and Pepper, to taste
1 Tbsp. Olive Oil
1 Tbsp. Butter
1 Pkg. Parmesan Risotto
Instructions
Prepare risotto as directed on the package.
In a small sauce pan, combine raspberry preserves, the zest and juice of 1 lemon, raspberries, water and crushed red pepper.
Heat over moderately high heat for approximately 5-7 minutes.
Thaw scallops as directed on package.
Rinse scallops and pat dry with paper towels.
Season with salt and pepper.
Add oil and butter to a non-stick skillet and heat over moderately high heat until hot but not smoking.
Saute scallops by turning over once until browned and just cooked through 4-6 minutes total.
Serve over a bed of risotto and drizzle with sauce.
These Pan-Seared Scallops with Spicy Raspberry Sauce seem gourmet without the hours of prep work. This meal tastes just as great as it looks! Looking for something a bit more simple? This Tilapia Fish Sandwich won't disappoint.
Shop from the comfort of your home! You can shop online at any of our proud family of stores for these recipe ingredients as well as the rest of your grocery list! We offer curbside pick up at all locations and delivery in select locations as well. Don't forget to connect your MORE Rewards account when you shop online for extra savings, digital coupons, and many other rewards too!
Shop Ingredients