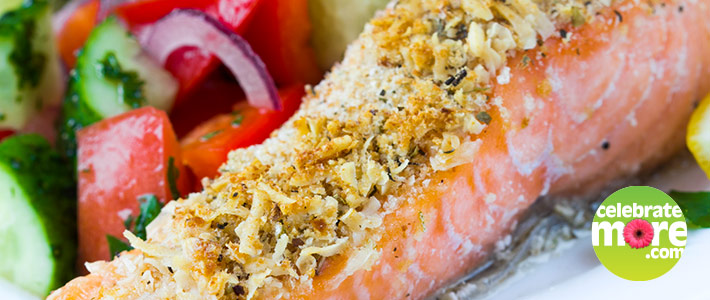 Ingredients
1 Lb. Salmon Fillet
1 tsp. Olive Oil
2 Tbsp. Mayonnaise
1 tsp. Dijon Mustard
1/4 C. Croutons, crushed
1/4 C. Chopped Pecans
Instructions
Heat closed grill for 5 minutes.
Brush both sides of salmon fillet with oil.
When grill is heated, place salmon, skin-side down, on bottom grill surface; close grill.
Cook for 5 minutes.
In small bowl, mix mayonnaise and mustard.
In another small bowl, stir together crushed croutons and pecans.
Spread mayonnaise mixture over salmon and sprinkle with crumb mixture; close grill.
Cook 1 to 2 minutes until internal temperature reaches at least 145 degrees.
Cut salmon into serving pieces and serve.
Pecan Grilled Salmon has the perfect crunch of croutons and pecans. Such an easy recipe to throw together if you're short on time for dinner. Next, go for sweet and spicy with these Pan Seared Scallops With Spicy Raspberry Sauce.
Shop from the comfort of your home! You can shop online at any of our proud family of stores for these recipe ingredients as well as the rest of your grocery list! We offer curbside pick up at all locations and delivery in select locations as well. Don't forget to connect your MORE Rewards account when you shop online for extra savings, digital coupons, and many other rewards too!
Shop Ingredients