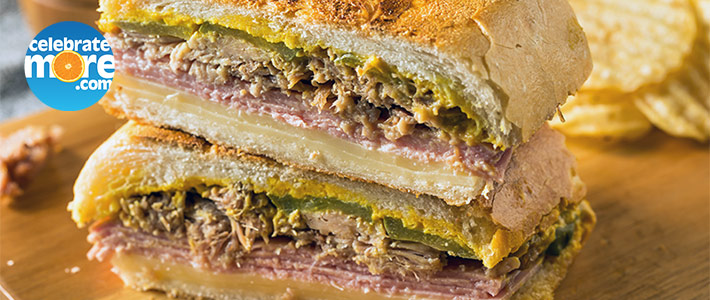 Pressure Cooker Cubano Sandwiches
You've never had Cuban sandwiches quite like these Pressure Cooker Cubano Sandwiches – moist, delicious, and sure to be a new fav! If you're looking for even more Cuban flavor, check out this Cuban Pork Tenderloin recipe!
Shop from the comfort of your home! You can shop online at any of our proud family of stores for these recipe ingredients as well as the rest of your grocery list! We offer curbside pick up at all locations and delivery in select locations as well. Don't forget to connect your MORE Rewards account when you shop online for extra savings, digital coupons, and many other rewards too!
Pressure Cooker Cubano Sandwiches
Ingredients
For The Shredded Pork
4 Lb. Boneless Pork Shoulder, trimmed of excess fat
2 tsp. Kosher Salt
2 tsp. Ground Cumin
1/4 tsp. Red Pepper Flakes
2 tsp. Dried Oregano
6 Cloves Garlic, minced
1/3 C. Orange Juice
1/3 C. Lime Juice
1/2 C. Chicken Broth
For The Sauce
1/4 C. Mayonnaise
1/4 C. Yellow Mustard
1 Pinch Cayenne Pepper
For The Sandwich
1 Lb. Thick Sliced Ham
1-2 Loaves Soft French Bread
8-10 Slices Swiss Cheese
1 C. Sliced Dill Pickles
Butter For Toasting The Sandwiches
Instructions
In a small bowl, combine the salt, cumin, red pepper, and oregano.
Place the pork shoulder into the Pressure Cooker and sprinkle all over with the seasoning mix.
Add the minced garlic to the pot and pour the orange and lime juice and chicken broth over the pork.
Lock the Pressure Cooker lid in place, making sure the venting valve is sealed.
Set Pressure Cooker to cook on high pressure for 65 minutes.
When the cooking time is up, allow the pressure to release naturally for 15 minutes, and then carefully turn the venting valve to release the remaining pressure. When the pressure pin drops, remove the lid.
Remove the pork from the cooking liquid and shred once cooled. Then, stir the shredded pork back into the cooking juices to absorb some flavor.
Mix the mayonnaise, mustard and cayenne pepper together in a small bowl and set aside.
When ready to assemble the sandwiches, slice a loaf of French bread in half and spread both sides with the sauce.
Top one half of the bread with a good portion of the shredded pork followed by several slices of ham.
Shingle the Swiss cheese slices over the other half of the bread and top with pickles.
Combine the two halves to make a whole sandwich and cut into individual servings.
Heat a heavy bottomed skillet over medium heat and add a tablespoon of butter.
Place a portion of sandwich into the melted butter and, using another heavy pot or pan, press the sandwich into the pan to flatten it. Cook until golden brown, flip and repeat until both sides are golden brown and cheese is melted.
Repeat with the remaining sandwich portions and serve.
Shop Ingredients