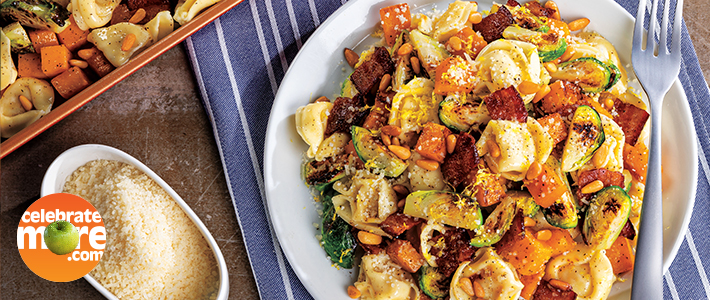 Sheet-Pan Butternut Squash, Bacon & Brussels Sprouts Tortellini
Ingredients
6 Slices Thick-Cut Applewood Smoked Bacon, chopped
4 Garlic Cloves, minced
2½ Cups Butternut Squash, diced
2½ Cups Brussels Sprouts, quartered
3 Tbsp. Olive Oil plus additional for serving
½ tsp Kosher Salt
½ tsp. fresh ground black pepper plus additional for serving
3 Tbsp. Pine Nuts
2 Packages (8.8 Oz. each) Four Cheese tortellini
¼ Cup Fresh Lemon Juice
1/3 Cup Grated Parmesan Cheese
1 Tbsp. Lemon Zest
Instructions
Preheat oven to 425°F. Line rimmed baking pan with parchment paper. In large bowl, toss bacon, garlic, squash, Brussels sprouts, 2 tablespoons oil, salt and pepper; spread on prepared pan. Roast 25 minutes or until squash is tender.
In small skillet, toast pine nuts over medium heat 2 minutes or until fragrant and golden brown, stirring occasionally; transfer to plate to cool.
Prepare tortellini as label directs; drain and transfer to medium bowl; add remaining 1 tablespoon oil and toss. Stir tortellini into squash mixture; roast 10 minutes or until tortellini is heated through. Makes about 10 cups.
Drizzle tortellini with lemon juice and additional olive oil, if desired. Serve sprinkled with cheese, lemon zest, pine nuts and additional pepper.