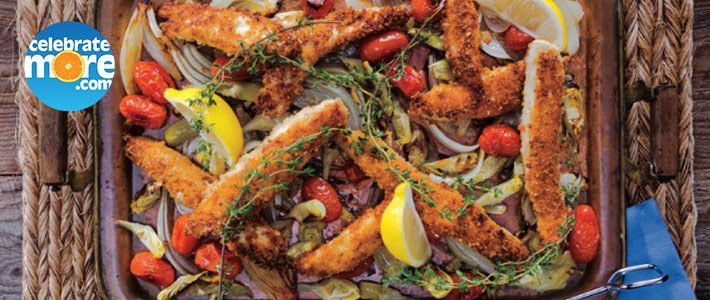 Sheet Tray Lemon-Parmesan Chicken
Ingredients
Nonstick cooking spray
1 Medium Yellow Onion, cut into 8 wedges
2 Tbsp. Dijon or Coarse Mustard
2 Tbsp. Lemon Juice
2 Tbsp. Unsalted Butter, melted
1 C. Panko Breadcrumbs
2 Tbsp. Grated Parmesan Cheese
1/4 tsp. Black Pepper
1 1/4 Lbs. Boneless, Skinless Chicken Tenders or Breasts, breasts cut into 1-inch strips
1 can (14 Oz.) Quartered Artichoke Hearts, drained and rinsed
1 C. Cherry or Grape Tomatoes
Fresh Thyme Sprigs and Lemon Wedges for garnish (optional)
Instructions
Preheat oven to 425°; spray large rimmed sheet tray with nonstick cooking spray. Spread onion in single layer on prepared tray and spray with cooking spray; roast 10 minutes.
In wide, shallow dish, stir mustard, lemon juice and butter. In large zip-top plastic bag, combine breadcrumbs, cheese and pepper.
In batches, dip chicken in mustard mixture to coat; add to bag with breadcrumbs and toss to coat.
Push onion to 1 side of tray; spray onion and tray with cooking spray. Stir artichokes and tomatoes into onion; place chicken in single layer on opposite side of tray. Spray chicken and vegetables with cooking spray.
Roast 10 minutes or until bottom of chicken is brown; turn chicken and stir vegetables. Roast 15 minutes longer or until internal temperature of chicken reaches 165°. Serve chicken and vegetables garnished with fresh thyme sprigs and lemon wedges, if desired.
Notes
Helpful Tip:
Stir 1 teaspoon dried thyme leaves into onion along with artichokes and tomatoes for additional flavor.
Sheet Tray Lemon-Parmesan Chicken with Artichokes, Tomatoes & Onions has everything you need for a tasty family dinner! Here's another great recipe for another weeknight dinner – Lemon Garlic Chicken.
Shop from the comfort of your home! You can shop online at any of our proud family of stores for these recipe ingredients as well as the rest of your grocery list! We offer curbside pick up at all locations and delivery in select locations as well. Don't forget to connect your MORE Rewards account when you shop online for extra savings, digital coupons, and many other rewards too!
Shop Ingredients