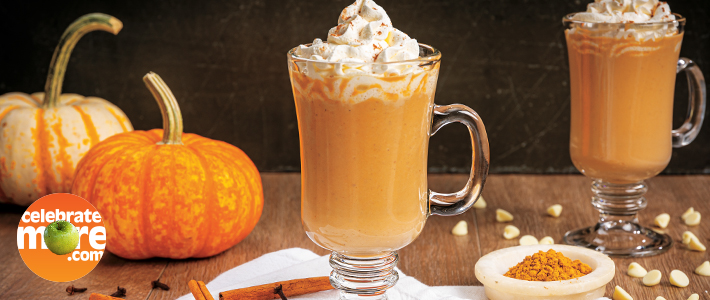 Slow Cooker White Chocolate-Pumpkin Latte
Cook Time
2 hours, 30 minutes
Total Time
2 hours, 40 minutes
Ingredients
2 Cans (15 Oz. each) 100% Pure Pumpkin
8 Cups Whole Milk
4 Cups Half and Half
½ Cup Granulated Sugar
3½ Tbsp. Instant Coffee Granules
1½ tsp Ground Cinnamon plus additional for garnish
1 tsp Ground Ginger
1 tsp Vanilla Extract
½ tsp Ground Allspice
½ tsp Ground Cloves
1 Cup White Chocolate Chips plus additional for garnish (optional)
Whipped Cream for garnish (optional)
Instructions
In 5- to 6-quart slow cooker, whisk all ingredients except chocolate chips and whipped cream; cover and cook on high 2 hours.
Add chocolate chips and stir until melted; cover and cook on low 30 minutes. Makes about 14 cups.
Serve latte in mugs garnished with whipped cream, chocolate chips and cinnamon, if desired.
Percent Daily Values are based on a 2,000 calorie diet. Your daily values may be higher or lower depending on your calorie needs.