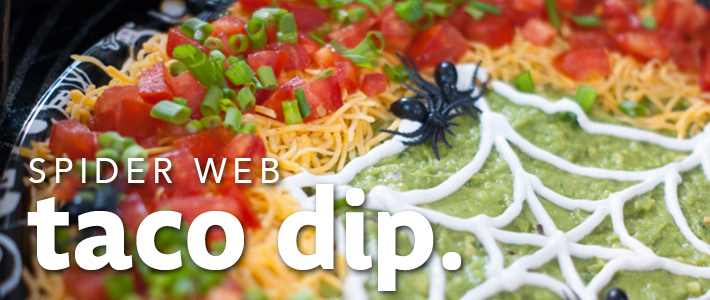 Ingredients
16 oz. Can Refried Beans
2 Tbsp. Taco Seasoning
1/4 C. Taco Sauce
1 C. Guacamole Dip
1/2 C. Ripe Black Olives, sliced
1 C. Chopped Ripe Tomatoes
1 Green Onion, thinly sliced
1/2 C. Sour Cream
2-3 Tbsp. Milk
Instructions
Stir together refried beans, taco seasoning and taco sauce. Warm mixture slightly in the microwave to help it spread easier.
Spread bean mixture on bottom of glass pie plate.
Spread guacamole over bean mixture.
Mix sour cream with enough milk to make it thin enough to come out of a squeeze bottle or, a plastic bag with a corner cut can work, too!
Draw a spider web with sour cream on the guacamole layer.
Sprinkle olives, cheese, tomatoes, and green onions around the edges. Place spiders around the web for decoration and serve with warm tortilla chips.