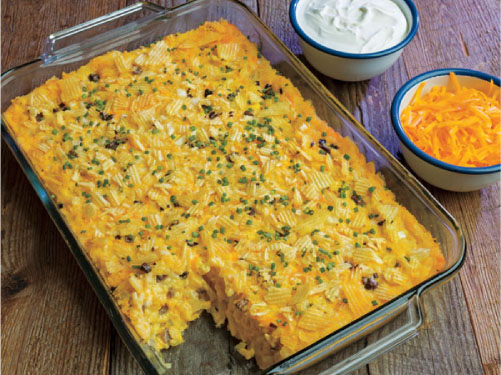 [email_link]
Coborn's Cheesy Potato Recipe Contest Winner
Super Cheesy Potatoes
1
can (10-3/4 ounces) condensed cream of mushroom soup, undiluted
1
can (10-3/4 ounces) condensed Cheddar cheese soup, undiluted
1
cup (8 ounces) sour cream
1/4
cup butter or margarine, softened
1/4
cup chopped onion
2
cups Crystal Farms® Shredded Sharp Cheddar Cheese
1/2
teaspoon salt
1/4
teaspoon pepper
1
package (about 28-32 ounces) frozen O'Brien hash brown potatoes
3/4
cup crushed potato chips (omit this ingredient if you're going to cook the potatoes in a slow cooker)
1.In a large bowl, combine the soups, sour cream, butter, onion, shredded cheese, salt and pepper. Add potatoes and mix well.

2.Pour into a greased 9 x 13 baking dish. Sprinkle with potato chips.

3.Bake, uncovered, at 350°F for 55 to 60 minutes or until the potatoes are tender. (Or, cook in slow cooker on low for about 6 hours.)

Congrats to our recipe contest winner, Stefanie G. from Elk River, MN!