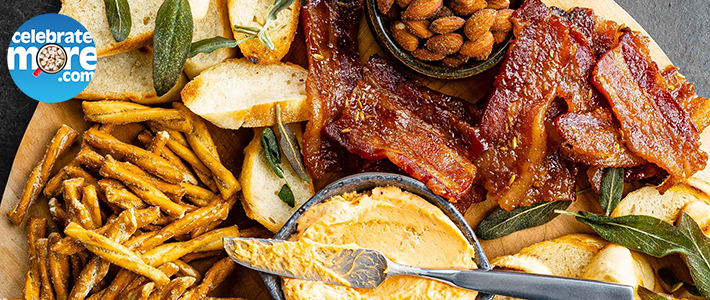 Sweet and Smoky Candied Bacon Board
Ingredients
Nonstick cooking spray
1 1/2 lbs. Four Brothers® Signature Smokehouse Premium Thick Sliced Bacon, 1/2 pound chopped
2 C. Granulated Sugar
1/2 C. Light Corn Syrup
5 Tbsp. Unsalted Butter
1/2 tsp. Baking Soda
1 C. Four Brothers® Smoked Almonds, 1/2 cup chopped
1/4 C. Brown Sugar
1 tsp. Orange Zest
1/2 tsp. Four Brothers® Fennel Seed
1/4 tsp. Four Brothers® Cayenne
1/4 C. Olive Oil
1 Baguette (6.2 Oz.), cut crosswise into 1/2-inch slices
1/4 C. Fresh Sage Leaves
1/2 C. Four Brothers® Blueberry Spread
1/2 C. Four Brothers® Orange Marmalade
1/2 C. Four Brothers® Smoky Bacon Cheese Spread
1 Pkg. (5 Oz.) Blue Cheese Wedge
1 C. Four Brothers® Premium Original Homestyle Gourmet Pretzels
Instructions
Preheat oven to 400°; line 2 rimmed baking pans with nonstick aluminum foil and spray with cooking spray. In large skillet, cook chopped bacon over medium-high heat 5 minutes or until crisp, stirring occasionally; transfer to paper towel-lined plate.
Attach candy thermometer to side of medium saucepan. Add granulated sugar, corn syrup and 1/2 cup water; heat to a boil over medium-low heat. Boil 20 minutes or until thermometer reaches 340°; remove from heat. Whisk in butter and baking soda until incorporated; stir in chopped almonds and chopped bacon. Pour onto 1 prepared pan; cool completely. Break brittle into 2-inch pieces. Makes about 42 pieces.
In small bowl, stir brown sugar, zest, fennel seed and cayenne. Place remaining 1 pound bacon on remaining prepared pan; rub both sides with brown sugar mixture. Bake bacon 25 minutes or until crisp, rotating pan once during baking; cool completely on pan. Transfer bacon to cutting board; half crosswise. Makes about 24 slices.
In separate large skillet, heat 2 tablespoons oil over medium heat. Add baguette slices; cook 3 minutes or until lightly browned, turning once. Makes about 14 slices.
In same skillet, heat remaining 2 tablespoons oil over medium heat. Add sage; cook 2 minutes or until crisp, turning once.
Place blueberry spread, marmalade, bacon spread and remaining 1/2 cup almonds in 4 small bowls; place bowls on large wooden board or serving platter. Arrange blue cheese, pretzels, brittle, candied bacon, baguette slices and sage around bowls on board.
Notes
Approximate nutritional values per serving (1/14 board): 523 Calories, 25g Fat, 9g Saturated Fat, 40mg Cholesterol, 813mg Sodium, 66g Carbohydrates, 2g Fiber, 54g Sugars, 53g Added Sugars, 13g Protein
A board for every occasion! This beautiful Sweet and Smoky Candied Bacon Board has something for everyone. 
This Sweet and Smoky Candied Bacon Board is perfect to put out when entertaining or for any special occasion! If you're looking for a great idea for dinner, you should try this Build Your Own Burrito Board as well.
Shop from the comfort of your home! You can shop online at any of our proud family of stores for these recipe ingredients as well as the rest of your grocery list! We offer curbside pick up at all locations and delivery in select locations as well. Don't forget to connect your MORE Rewards account when you shop online for extra savings, digital coupons, and many other rewards too!
Shop Ingredients