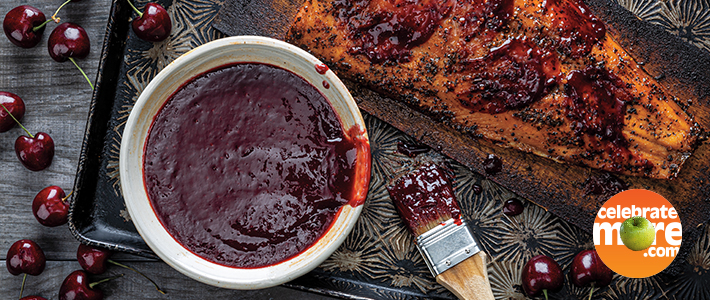 Ingredients
1 Lb. Sweet Cherries, stemmed and pitted
2 Garlic Cloves, minced
1 Cup Ketchup
1/2 Cup Apple Cider Vinegar
1/2 Cup Brown Sugar
1/4 Cup Yellow Mustard
2 Tbsp. Worcestershire Sauce
1/4 tsp Crushed Red Pepper Flakes
1/4 tsp Ground Black Pepper
1/4 tsp Kosher Salt
Instructions
In medium saucepot, heat all ingredients to a simmer over medium heat, stirring occasionally; reduce heat to low and cook 20 minutes or until cherries are very tender, stirring occasionally.
Carefully transfer cherry mixture to blender and blend on high until smooth; cool completely. Refrigerate sauce in an airtight container up to 2 weeks. Makes about 4 cups.
Notes
Serve Tangy Cherry BBQ Sauce over chicken, duck, pork ribs or salmon.
Percent Daily Values are based on a 2,000 calorie diet. Your daily values may be higher or lower depending on your calorie needs.