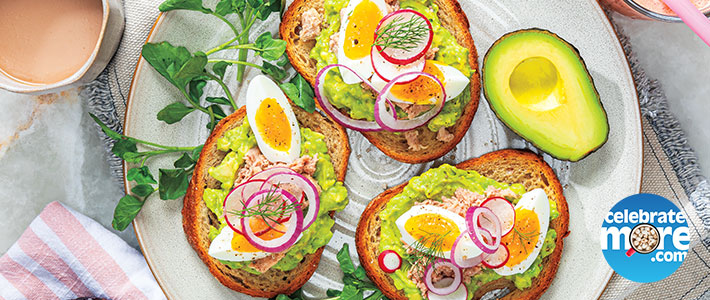 Ingredients
2 Large Eggs
1 Large Avocado, peeled, pitted and chopped
1 Tbsp. Fresh Lime Juice
½ tsp Kosher Salt
4 Slices Rye Bread
1 Can (5 Oz.) Light Tuna in water, drained
½ Cup Unsalted Beet Chips
½ Cup Watercress
2 Tbsp. Radishes, thinly sliced
2 Tbsp. Red Onion, thinly sliced
1 Tbsp. Fresh Dill, coarsely chopped
Instructions
Heat medium covered saucepot of water to a boil over high heat; add eggs and return to a boil. Reduce heat to medium-low; simmer 8 minutes. Remove eggs with a slotted spoon to bowl of ice water; let cool 1 minute or until cool enough to handle. Peel eggs; cut lengthwise into quarters.
In small bowl, mash avocado, lime juice and salt with a fork.
Toast bread; top with avocado mixture, tuna, chips, watercress, radishes, onion, dill and eggs.
Percent Daily Values are based on a 2,000 calorie diet. Your daily values may be higher or lower depending on your calorie needs.