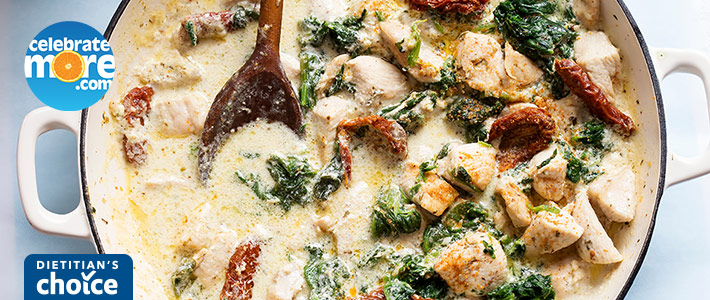 Tuscan Pasta Freezer Meal
Ingredients
16 Oz. Food Club Whole Wheat Penne Pasta
4 Tbsp. Land O' Lakes Light Butter with Canola Oil
4 Cloves of Garlic, minced
1/2 Tbsp. Dried Basil
8 Oz. 1/3 Reduced Fat Cream Cheese, softened and cut into 8 pieces
2 (3 Oz.) packages Sun Dried Tomatoes, Julianne cut
2 Cups 1% Milk
4 Oz. Parmesan Cheese, grated
1 Cup Fresh Spinach, chopped
1/2 tsp Ground Black Pepper
1/2 tsp salt, to taste
1 Cup Rotisserie Chicken, cooked and cubed
Instructions
In a medium pot, boil water for the pasta. Once it's boiling, add the dried pasta.
In another medium pot, melt the light butter over medium heat. Add the garlic and cook for about 2 minutes, stirring the whole time. Stir in the dried basil. Add the cream cheese, stirring with a whisk until the mixture is smooth. It will curdle at first, but with constant whisking for 2-3 minutes, it will become a smooth paste.
Stir in the sun-dried tomatoes. Keep cooking over medium heat and add the milk and whisk quickly and constantly until it is blended into the sauce. Stir in the Parmesan cheese, spinach, salt, and pepper. Cook over medium heat, stirring until the cheese is melted and the sauce is the desired consistency. About 5-10 minutes.
Drain the pasta and pour into a 9x9 inch foil pan.
Pour the sauce over the cooked pasta and add cooked chicken. Mix pasta, sauce and chicken together carefully with a spatula. When making this into a freezer meal, be sure the pasta dish cools before placing on the foil top and sticking into the freezer.
When you are ready to bake it, remove from the freezer and bake it in the oven at 350 degrees for about 40 minutes or until heated through.
Notes
Dietitian's Tip: Serve with steamed broccoli and fresh fruit for a complete meal!


This Tuscan Pasta Freezer Meal is perfect to make ahead for busy weeknights and tastes so amazing you might as well make a few extra batches! If you're looking for more great recipes for busy evenings, this Instant Pot® Buffalo Chicken Chili is ready in about 30 minutes!
Shop from the comfort of your home! You can shop online at any of our proud family of stores for these recipe ingredients as well as the rest of your grocery list! We offer curbside pick up at all locations and delivery in select locations as well. Don't forget to connect your MORE Rewards account when you shop online for extra savings, digital coupons, and many other rewards too!
Shop Ingredients