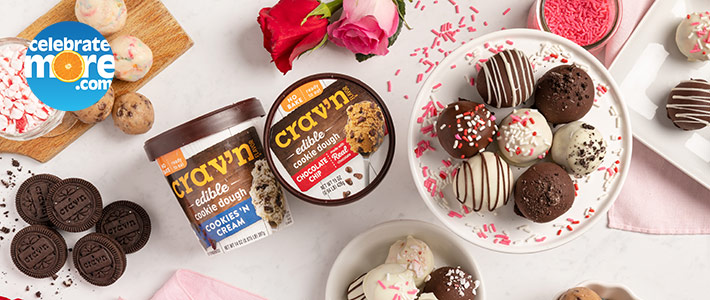 Valentine's Day Cookie Dough Truffles
Ingredients
2 Containers Crav'n Flavor Edible Cookie Dough, any flavor
2 C. Dark Chocolate Chips
2 C. White Chocolate cChips
2 Tbsp. Vegetable Oil, divided
1 C. Finely Crushed Crav'n Chocolate Sandwich Cookies
Assorted Sprinkles
Crushed Peppermint Candy
Instructions
Scoop rounded tablespoons of cookie dough and roll into balls. Place on a parchment-lined baking sheet and refrigerate for at least 30 minutes.
Melt dark chocolate with 1 tablespoon of oil in the microwave for 90 seconds, pausing to stir every 30 seconds. Repeat with white chocolate.
Using two forks, dip chilled cookie dough balls into melted chocolate. Roll in crushed cookies, or decorate with sprinkles, crushed peppermint candies or melted chocolate.
Transfer finished cookie dough truffles to a parchment-lined baking sheet and chill until set.
These Valentine's Day Cookie Dough Truffles are a simple and delicious treat to make and enjoy with your loved ones. They're also great to make with the kids and they will have a blast decorating these cute little treats. With 3 tasty flavors of Crav'n edible cookie dough, it will be hard to pick which flavor is your favorite! Looking for more Valentine's Day Day treats? Check out another festive cookie recipe – Hugs & Kisses Cherry Almond Shortbread Cookies.
Shop from the comfort of your home! You can shop online at any of our proud family of stores for these recipe ingredients as well as the rest of your grocery list! We offer curbside pick up at all locations and delivery in select locations as well. Don't forget to connect your MORE Rewards account when you shop online for extra savings, digital coupons, and many other rewards too!
Shop Ingredients