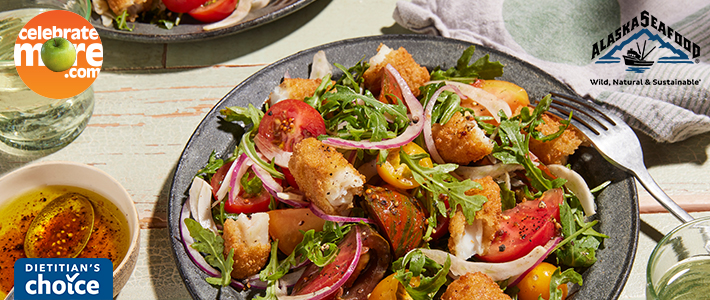 Wild Alaska Pollock Panzanella Salad
Wild Alaska Pollock Panzanella Salad is more than meets the eye – it takes fish sticks to a whole new level – easy, delicious & nutritious! Want more seafood recipes? This Grilled Salmon & Asparagus Pasta Salad is another great option!
Shop from the comfort of your home! You can shop online at any of our proud family of stores for these recipe ingredients as well as the rest of your grocery list! We offer curbside pick up at all locations and delivery in select locations as well. Don't forget to connect your MORE Rewards account when you shop online for extra savings, digital coupons, and many other rewards too!
Wild Alaska Pollock Panzanella Salad
Ingredients
12 Oz. Prepared Breaded Alaska Pollock Fish Sticks
1 Tbsp. Whole Grain Mustard
1/4 C. Olive Oil
2 Tbsp. Red Wine Vinegar
Pinch of Salt
2 Lbs. Tomatoes, heirloom preferred
1/2 Red Onion, thinly sliced
1 Small Fennel Bulb, sliced very thin
2 C. Arugula
Instructions
Prepare fish sticks according to package instructions, adding just a bit of time to total cooking so they are extra crispy.
Meanwhile, in a large bowl, mix mustard, olive oil, vinegar and salt to make a vinaigrette. Combine with tomatoes, red onion, fennel and arugula and allow to sit while fish sticks cook. Remove fish sticks from the oven and cut each stick into pieces roughly the size of croutons (about 3 each). Add fish while still warm and toss gently to combine. Serve warm or at room temperature.
Shop Ingredients