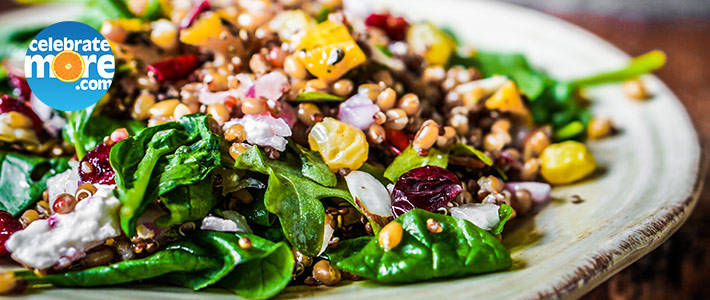 A Registered Dietitian's Guide to Salads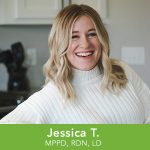 I'm such a big fan of salads! And not the boring iceberg lettuce, tomatoes, and shaved carrot types of salads. I'm talking about big, heaping salads full of whole grains, proteins, vegetables, and fruits. Honestly, nothing's off limits when it comes to salad! They say that the eyes eat first, and that's one of the amazing things about salads. They're fun, colorful, and often seasonal – and that creates an exciting eating experience. However, it's not always easy to find salad recipes that are delicious, nutritious, and filling. So, I bring you a Registered Dietitian's Guide to Salads!
Step 1: Choose Your Protein
Adding protein to your salads is hugely important. Have you ever eaten a salad that consisted of only vegetables and thought to yourself, wow I'm still hungry? That's because your salad lacked protein. Protein is a key piece of any snack or meal because it leaves you feeling full and satisfied. Not to mention the delicious flavors that proteins like beef or salmon add to salads! Here are a few of my favorite salad protein options:
Salmon – Love those Omega-3s!
Chicken – Skinless chicken breast or chicken tenders are SO simple to have on hand to toss in your salad.
Beef – Look for 90% or more lean ground beef or choose lean cuts like tenderloin.
Pork – Choose lean cuts like pork chops or tenderloin.
Beans – My favorite meatless protein option!
RD Tip: Does a salad look delicious, but lack the protein to be filling? Don't be afraid to add protein! Cook up chicken breasts or grill a steak to bring that protein boost.
Step 2: Choose Your Dressing
Choosing a salad dressing can be challenging, especially when you're shopping with your health in mind. Pre-made salad dressings often contain high amounts of added sugar, saturated fat, and sodium, so always check the nutrition label. A general rule of thumb when you're reading the nutrition label on salad dressings is to look for options that contain:

<6g sugar
<2.5g saturated fat
<200mg sodium
Or simply look for our blue Dietitian's Choice logo on the shelf tag to feel confident that you're reaching for the better for you option!
Step 3: Add Some Grains!
Whole grains not only add texture, but they also hold a ton of amazing salad dressing flavor. And as if that wasn't enough reason to add whole grains to your salads, there's benefits to your body as well! Adding whole grains like quinoa, farro, barley, and brown rice to your salad ensures that you leave the meal feeling full and satisfied. Not to mention the heart and gut benefits of increasing the fiber in your diet!
Step 4: AAALLLL Your Favorite Vegetables & Fruits
Again, nothing is off limits. Start with the fruits and vegetables that you know and love, but don't be afraid to experiment. Try to make your plate as colorful as possible, using various produce items. Different colors are associated with different antioxidants and vitamins, so have fun eating the rainbow of colors!
—
Is your mouth watering yet? Get inspired with some of my favorite salad recipes:
Happy Eating!
Jess, Registered Dietitian
MPPD, RDN, LD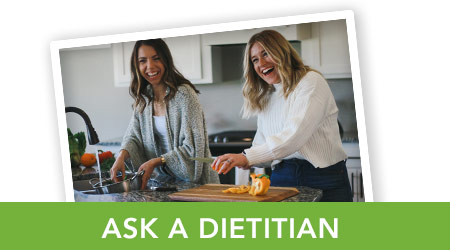 Don't miss out! Catch up on all the 
latest blogs
from our Dietitian Team.