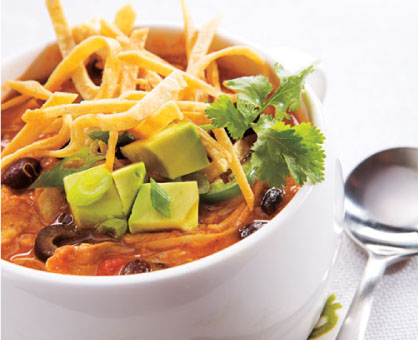 Chicken Enchilada Soup
Prep: 20 minutes
Cook: 25 minutes • Serves: 8
2
tablespoons vegetable oil
1/2
medium yellow onion, diced
1
garlic clove, minced
1
teaspoon ground cumin
3/4
teaspoon ground coriander
1/4
teaspoon salt
1
container (32 ounces) less-sodium chicken broth
1
can (14.5 ounces) diced tomatoes, drained
1
can (10 ounces) enchilada sauce
1
can (4 ounces) diced mild green chiles
1
can (15 ounces) black beans, drained
8
(6-inch) corn tortillas, cut into ½-inch pieces, pieces separated
3-1/2
cups shredded boneless, skinless cooked chicken or rotisserie chicken meat
1-1/2
cups shredded Cheddar cheese
2
tablespoons fresh lime juice
2
teaspoons hot sauce
Sliced avocado, crushed tortilla chips or strips, sliced black olives, sliced green onions, sliced jalapeño and fresh cilantro sprigs for garnish (optional)
1.In large saucepot, heat oil over medium-high heat. Add onion and garlic; cook 3 to 4 minutes or until onion is soft, stirring occasionally. Stir in cumin, coriander and salt; cook 2 minutes, stirring occasionally.

2.Add broth, tomatoes, enchilada sauce and green chiles; heat to boiling. Reduce heat to medium-low; add beans and tortillas and cook, covered, 8 to 10 minutes or until tortillas begin to soften and soup thickens, stirring occasionally. Add chicken and cook, uncovered, 4 to 5 minutes or until heated through, stirring occasionally. Remove from heat; stir in cheese, lime juice and hot sauce. Makes about 10 cups.

3.Serve soup topped with garnishes, if desired.


Approximate nutritional values per serving: 

370 Calories, 15g Fat (6g Saturated), 80mg Cholesterol,
1280mg Sodium, 29g Carbohydrates, 4g Fiber, 28g Protein