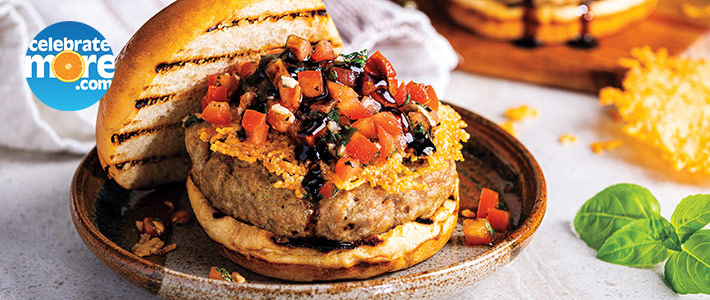 Grilled Bruschetta-Topped Turkey Burger
Ingredients
Nonstick Cooking Spray
1/2 C. Shredded Parmesan Cheese
1 Garlic Clove, minced
2 Tbsp. Extra Virgin Olive Oil
3/4 tsp. Kosher Salt
1/4 tsp. Ground Black Pepper
2 Roma Tomatoes, chopped
1 1/2 Tbsp. Chopped Fresh Basil
1 Lb. 85% Lean Ground Turkey
4 Brioche Hamburger Buns
2 Tbsp. Balsamic Glaze
Instructions
Prepare outdoor grill for direct grilling over medium-high heat; line rimmed baking pan with nonstick aluminum foil and spray with cooking spray.
Place cheese in 4 mounds (2 tablespoons each) on prepared pan; gently spread each mound into 3-inch circle. Place pan on hot grill rack; cover and cook 4 minutes or until edges begin to brown, rotating pan once. Cool completely.
In small bowl, whisk garlic, oil, 1/4 teaspoon salt and pepper; fold in tomatoes and basil. Makes about 1 1/2 cups.
In large bowl, gently mix turkey and remaining 1/2 teaspoon salt; form into 4 (1/2-inch-thick) patties.
Spray both sides of patties with cooking spray and place on hot grill rack; cover and cook 10 minutes or until internal temperature reaches 165°, turning once. During last minute of cooking, place buns, cut side down, on hot grill rack; cover and cook 1 minute or until lightly toasted.
Serve burgers in buns topped with Parmesan chips and bruschetta mixture drizzled with balsamic glaze.
Fire up the grill and make something new with this Grilled Bruschetta-Topped Turkey Burger – you won't regret it! If you love turkey burgers, then make sure to bookmark this Cheese-Stuffed Turkey Burger for next time, too!
Shop from the comfort of your home! You can shop online at any of our proud family of stores for these recipe ingredients as well as the rest of your grocery list! We offer curbside pick up at all locations and delivery in select locations as well. Don't forget to connect your MORE Rewards account when you shop online for extra savings, digital coupons, and many other rewards too!
Shop Ingredients